ADVANCING THE SCIENCE OF WOUND CARE
The Phases Of Wound Healing
The phases of wound healing do not happen chronologically but in parallel. The process of normal wound healing involves a response to tissue injury that includes4:
Complex interactions among a variety of cell types
Production of structural proteins
Growth factors that may be influenced at any stage of the healing process
What leads to a chronic or non-healing wound?
There is rarely one single factor responsible for failed wound healing, however, chronic or stalled wounds are often attributed to an inability to move past the inflammation stage.5
Wound infection is the most common cause for poorly healing wounds and often complicates the healing process.4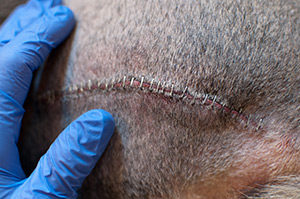 Accelerating the Healing Process: Wound Bed Preparation
Proper wound bed preparation is crucial to creating an optimal environment for proper wound healing and is widely accepted as the standard of care for chronic wounds.6
The ultimate goal of all wound bed treatment modalities (both standard and advanced), is to guard against, control, and reduce the negative effects of bioburden and biofilm on the healing process, regardless of the stage of healing.7
Recent studies have shown that the bioburden of bacteria significantly affects healing rates of wounds.4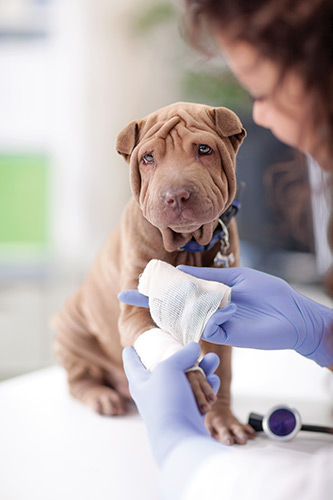 Wound bed preparation offers a structured and systemic approach to assist with the management of wounds, so healing can proceed through the natural stages.
The use of saline, sterile, or tap water is inappropriate for wound bed preparation in the context of bioburden and biofilm.1 The Vetericyn Plus® Veterinary Formula family of products can be used for:

Debridement and Lavage
Vetericyn Plus® liquid can be used for mechanical debridement of acute and chronic wounds.
Liberally soak gauze and apply it directly to the wound for 3-5 minutes to clean and loosen necrotic tissue, foreign, and cellular debris.
Use the gauze to gently scrub the wound; use additional sharp debridement tools as needed.
Follow this procedure with lavage using Vetericyn Plus liquid.
Biofilm Reduction
Biofilm consists of highly organized surface communities of bacteria that utilize a matrix and cellular properties to maintain cohesion.8 Biofilm usually flourish in environments where substrate, moisture, nutrition, and stasis combine.6
Many of the persistent characteristics that create a stalled or chronic wound, such as persistent inflammation, exudate, and host-cell senescence result directly from uncontained biofilm.9
The active ingredient in Vetericyn Plus, hypochlorous in solution, is a known antimicrobial that has demonstrated efficacy in vitro against several strains of bacteria.
Increased Moisture on the Wound Bed Surface
Vetericyn Plus VF is specifically indicated to moisten dressings and the wound bed surface.
Use Vetericyn Plus liquid to saturate the wound dressings during periods of heavy exudate production and Vetericyn Plus Hydrogel for moisture retention during the repair phase of wound healing.
Vetericyn Plus Hydrogel is designed to adhere to the site of application allowing moisture penetration of the wound bed with or without the aid of bandaging. This can be particularly beneficial to wound care where bandaging is not possible.
Learn more about the standard of care for wound treatment:
The Vetericyn team is dedicated to the best outcomes in wound care management. Our team of wound care experts and researchers are at the forefront of groundbreaking science and aim to create a lasting impact for patients around the world.
CLINICAL STUDIES & POSTERS:
Preliminary evaluation of hypochlorous acid spray for treatment of experimentally induced infectious bovine keratoconjunctivitis
POSITIVE PATIENT OUTCOMES (Puracyn Plus Professional brand the Human product line based on same HOCl technology):
Wound Care Continued Education
To sign up for wound care seminars and ongoing educational opportunities from medical professionals at Vetericyn, please fill out the form below: